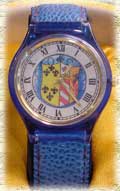 A collection of watch dials fired on "low flame" in enamelled metal and hand-painted, recreating works based on originals.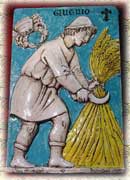 Decorated majolica ware of various shapes and sizes with motifs derived from mosaics, walling and flooring used in the Ancient World



A series of majolica ware decorated with ornamental motifs in Mediaeval and Renaissance ceramics for the purpose of divination and predicting the future.
.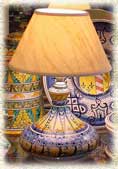 The ceramic lamps on offer are decorated with antique floral-geometric designs. They come complete with shades of coloured vellum.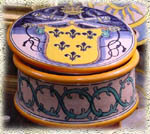 A jewel-box in antique majolica ware hand-painted with polychromatic oxides recreating heraldic coats of arms of the great Italian families and famous Popes, such as Paul III of the Farnese family.