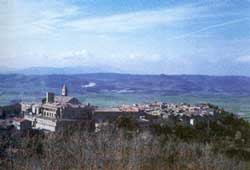 Valentano is a typical mediaeval town built of tufa stone and standing on top of a hill to the north of Lake Bolsena. Records of the old town date from the Early Middle Ages but its earliest origins can be traced back to the Bronze Age, to the time when a prehistoric village was established in the vicinity of the present township (Monte Starmina). Not far from this site is the Lake Mezzano settlement, where three submerged villages built on piles have been identified.

As well as highly significant finds such as bronze swords and axes, thousands of terracotta vessels of all shapes and sizes have been discovered and are now exhibited at the Museo della Preistoria della Tuscia e della Rocca Farnese and are evidence of how the numerous claypits have been exploited since ancient times.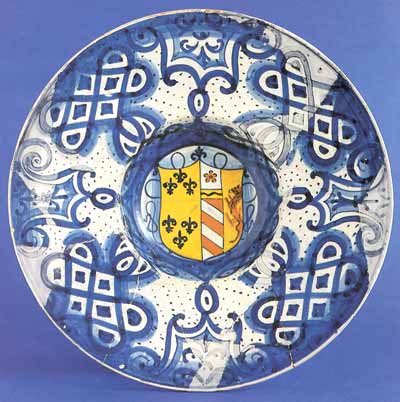 As the ancient centre of the Dukedom of Castro, Valentano was Ranuccio Farnese's favourite town and he named it in his will in 1449. In the second half of the 15th Century with Pier Luigi il Seniore, the Farnese family took up permanent residence at Rocca di Valentano. Annibali writes (1817-18 part II, Page 76): "This castle was enlarged and embellished by Pier Luigi il Seniore, the father of Paul III, when he moved from Canino to live at Valentano and settled there, as is shown by various of his cards issued from this his place of residence…."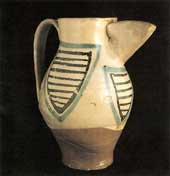 At Valentano the residence of the Farnese family gave rise at to one of the oldest "livestock and general goods" fairs in the Dukedom of Castro. It was these fairs that led to the manufacture and sale of "vascelle", "panate" (ancient wine-jars) and also of bowls, dishes and flasks decorated with love-symbols. This way of declaring your feelings, with a gift of pottery as a token of love, was in fashion during the Renaissance. The section of the museum devoted to The Middle Ages and Renaissance houses precious ceramic ornaments recovered from the so-called "tips" or deposits of finds at the castle.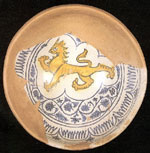 Laboratorium itself fits into this spectrum of ancient art by virtue of the artistic and scientific methods used in making its products:
The frescoes are executed using the same technique as the old Masters, to reproduce the great pictorial cycles (Giotto in the Basilica of Assisi, Luca Signorelli in the Cathedral of Orvieto, Michelangelo in the Sistine Chapel, etc….).
The ceramics are based on those discovered or collected through the ages as works of art and which are on show in the main National Museums (Tarquinia, Deruta, Faenza, Rome), from Etruscan to modern times.